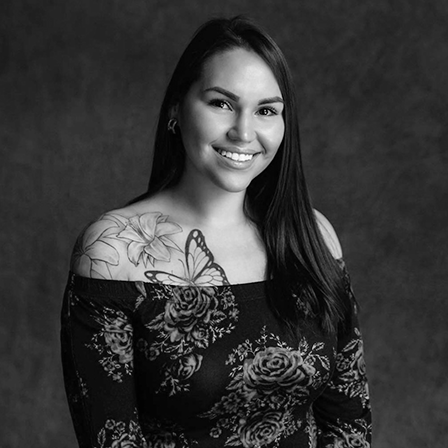 My Name is Miigwan Reine, I am 24 years old and I am from the Anishinaabe and the Lakota territories in the prairies east within Canada, and the United States of America. Miigwan means Feather in Ojibwe and Reine is French for Queen. My Ancestral name is Ogimaa Miigwan Ikwe, translated into English as Boss Feather Woman. Those roots stem from my fathers lineage, and Grandfathers, and Grandmothers here on Turtle Island. 
Then on my Mothers side we are Metis, from Saskatchewan, and Manitoba. I have endured many obstacles throughout these 24 years of my life. Going back to intergenerational trauma within my family and our lack of identity due to the historical trauma from colonization. My healing journey, and reclaiming my identity started when I was 16. I found my way back to my roots and embraced who I am as an Indigenous Woman and the name that I carry. With many failures and accomplishments throughout these years I have been able to find the courage, strength, and faith to find my passion and light in life. 
My light in life is helping others through my creativity, and devotion in educating people about situations that I have lived through, watched first hand, but was fortunate enough to overcome those adversities. I express my voice and visions through my Art, Powwow Dancing, and Mixed Martial Arts. Over the past few years I have passionately worked with the Indigenous children who are in the child welfare system. There are now more children in the child welfare system than at the height of The Indian Residential Schools. To me, reminding my people of who they are, and educating non Indigenous people about who we are is one of my biggest desires.