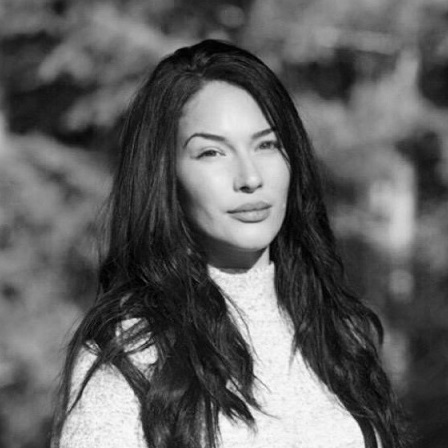 Nikki Sanchez (she/her) is a Pipil and Irish/Scottish academic, Indigenous media maker, and environmental educator. Nikki holds a master's degree in Indigenous Governance and is presently completing a Ph.D. with a research focus on emerging visual media technology as it relates to Indigenous ontology. Nikki is a board member of the Sierra Club BC, BC Women's Hospital, Photographers Without Borders, and a doctoral fellow at the Center for Religion and Society at the University of Victoria. She helped to design and direct the first-ever Indigenous Storyteller edition with Telus STORYHIVE; a project to provide funding and mentorship for 30 emerging Indigenous filmmakers in BC and Alberta. Nikki is the managing editor of Spirits of the Coast, the bestselling anthology of the Salish Sea Resident Orca published by Royal BC Museum publisher. Nikki had the honor of working for the David Suzuki Foundation as their, "Queen of Green (queenofgreen.ca) where her work centered on environmental journalism, social media, and digital media creation to provide sustainable solutions for a healthy planet, as well as content creation to bring more racial and gender inclusivity into the environmental movement.
As an Indigenous media maker, Nikki's most recent project is the 8-part documentary VICELAND series "RISE" which focused on global Indigenous resurgence. RISE was debuted at Sundance in February 2017 and has received global critical acclaim, recently winning "best documentary" at the Canadian Screen Guild Awards. Nikki is a TEDx speaker, her presentation is entitled "Decolonization is for Everyone". She has been a wilderness guide and environmental educator in the Nuu-chah-nulth territory of Clayoquot Sound for over 10 years, where she was mentored by Nuu-chah-nulth elders Tsahsiits and Qaamina Sam. She is the creator and director of "Decolonize Together" a collective of Indigenous women who offer decolonial and anti-racism workshops and curriculum creation.
Decolonize Together has been teaching and facilitating decolonization and anti-oppression training for universities, school boards, corporations, and NGOs for the past five years. Nikki also writes about Indigenous, environmental, and social justice issues, her writing has been published in Last Real Indians, Loose Lips Magazine, Intercontinental Cry, and The Hundreds.