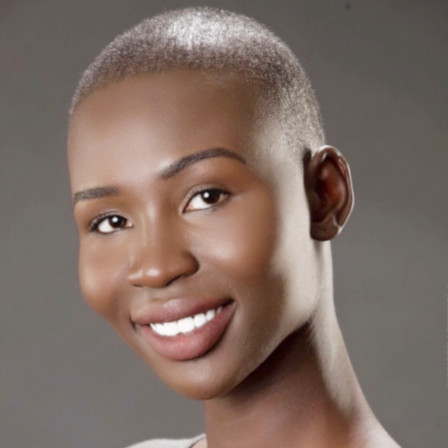 Nova Stevens is a Canadian-South Sudanese beauty pageant title holder, model, activist, philanthropist, and actress. Nova immigrated to Canada at the age of 6 leaving her immediate family behind. She was separated from her siblings and her mother, whom she did not see for over two decades.
After 21 years apart, Nova reunited with her family in South Sudan in 2021. Her emotional reunion was featured in various news outlets and highlighted her personal struggles as an immigrant and the importance of family.
Nova is a passionate activist and co-organized a freedom from hate March march in 2020 in Vancouver that brought together over 15,000 people in support of the Black Lives Matter movement. She also worked with the Mayor of Vancouver to have August 1st declared as Emancipation Day in the city, a day that marks the end of slavery in Canada.
In 2020, Nova was recognized for her activism and influence when she was named number 8 in Vanmag's power 50. She is also the founder of the non-profit organization, 'Go Supernova,' which focuses on empowering underprivileged BIPOC youth to reach their potential through education, sports, arts and mentorship programs. Nova has worked with 'One Girl Can,' an organization that provides education and career opportunities for girls in Kenya and Uganda, and 'Keep6ix,' a Canadian organization that supports at-risk youth.
Nova's passion for activism is also reflected in her work as a beauty pageant winner. In 2020 she decided to compete for the title of Miss Universe Canada for the 3rd, this time sporting her natural hair, not the usual weave that is encouraged by society's beauty standards. She has made history and was crowned Miss Universe Canada 2020, making her the second black woman and first South Sudanese to win the title. She did this while being authentically herself as it was important for her to win with her natural hair to showcase to other young black and browns girls that you are beautiful just the way the creator made you; you do not need to adhere to Eurocentric standards to be considered beautiful. She has also appeared in TV shows and commercials including the 'Motherland' 'the magicians''Sacred lies' 'Snow pierce' 'Uploads' 'Dairy Queen' 'Toyota' 'Jared's jewelry' 'HP' 'Peloton' 'Kim Crawford's Prosecco'
In 2021, Nova founded the 'Black Culture Celebration,' which honours Juneteenth, the first Juneteenth celebration in Vancouver. The event is a tribute to Black culture and history and is aimed at promoting BIPOC artist and business vendors to encourage diversity and inclusivity in Canada.
Nova is deeply committed to helping youth and is passionate about using her experiences to inspire and empower young people. As a former youth in the system, Nova understands the importance of mentorship and education, and she continues to advocate for youth empowerment through her various initiatives and platforms.